BREAST SCREENING PETITION
FOR FURTHER INFO PHONE 07 5443 481
The Petition was presented at Parliament on the 18th November 2003
AS A RESULT OF THIS PETITION, IN FEBRUARY 2004,
THE NEW ZEALAND GOVERNMENT EXPANDED THE
BREAST SCREENING AGE TO 45 - 69 YEARS!!!!!
(Previously 50 - 64 years)
PETITION TOTAL 124,000 - FANTASTIC - THANKYOU TO ALL WHO SUPPORTED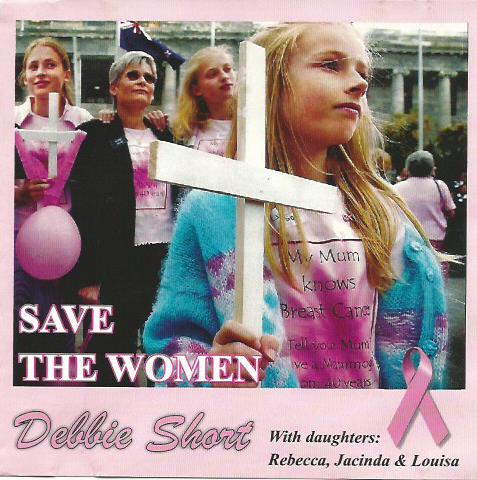 For excerpts of Debbie Short's Breast Cancer
"Save the Women" CD, listen on:
https://www.youtube.com/user/DebmarieS/videos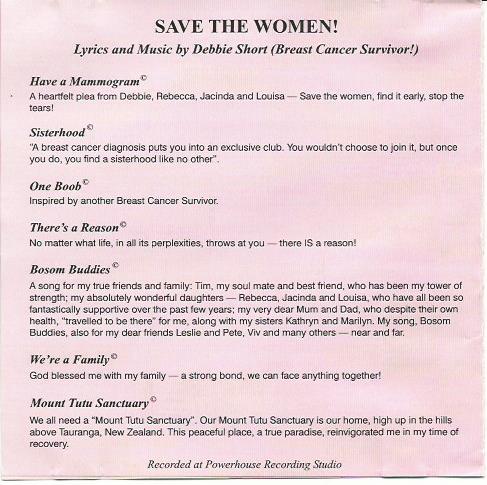 Archive NEWS ITEMS BELOW:
"CALLOUS COP-OUT IN CANCER CARE" - SUNDAY STAR TIMES - 17 OCT 2004
"Family tells of Cancer distress" - Dominion Post - 26th February 2004
Dominion Post Article - 19th November 2003
News Item - Sunday Star Times - 23rd November 2003
In addition to Written Submission (click above) - click here for Debbie and Tim's ORAL SUBMISSIONS presented to Health Select Committee 25.2.04
---
DEB'S FAVOURITE QUOTE:
"Behold the Turtle. He makes progress only when he sticks his neck out"
James Bryant Conant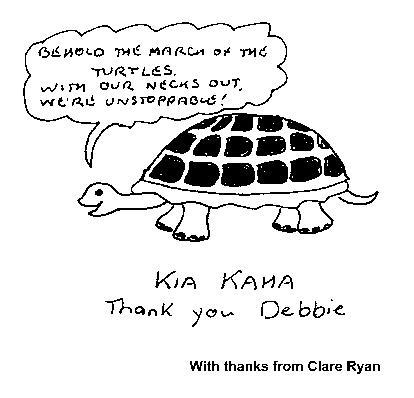 PLEASE READ THE FOLLOWING ARTICLES BY CLICKING ON THEM:
1. PRESS RELEASE FROM PROFESSOR LASZLO TABAR MD (Department of Mammography, Central Hospital, Falun, Sweden).
2. REPORT IN LANCET 26th APRIL 2003- MAMMOGRAPHY SERVICE SCREENING
AND MORTALITY IN BREAST CANCER PATIENTS: 20 YR FOLLOW-UP BEFORE AND AFTER
INTRODUCTION OF SCREENING
3. National Cancer Institute of America (NCI) Statement on Mammography Screening
4. U.S. Preventative Services Task Force Update, 2002 Release
5. U.S. Department of Health and Human Services affirms Mammography for women 40 years and over
6. Northwest Hospital - White Paper on Mammography Screening for Women aged 40 - 49 years
7. Background Reference Info from American Cancer Soc re Mammography Screening women aged 40yrs
8. American College of Radiology Supports Annual Mammography Screening for Women 40 - 49 years
9. Swedish Study Supports U.S. Groups' Position Calling for Mammography Screening for Women Aged 40-49
10. Public Address given by Louise Buckley - Medex Radiology Ltd for Early Mammography Screening
---
HISTORY
Debbie and Tim Short, who founded the Breast Cancer Action Trust
in 2002 petitioned the New Zealand Parliament for the Government to extend Breast Screening
from the then 50 - 64 years to 40 - 70 years as in Australia. Debbie, who at 44 years in
December 2001 had 8 malignant tumours removed. Early detection saves lives and
could save the expense of Chemotherapy, Radiotherapy and ongoing care.
Debbie has cost the tax payer a lot of money.
We note that 28% more women in New Zealand are dying from Breast Cancer than in
Australia, (New Zealand Medical Journal 10.5.02) based on Otago University Research.
Mammogram take-up rate BreastScreen Aotearoa 50 - 64 yrs is 56.2%
- BreastScreen Australia 50 - 69 yrs is 54.3%, so take-up rates very similar
- the main difference is that in Australia mammograms are annually free from 40 years.
The N Z Ministry of Health puts up spurious arguments like: "younger women have denser tissues
and false positives". This is spurious because the practice in clinics worldwide is that if the tissue
is dense, it is then followed by an ultrasound which makes the diagnosis clear.
The false positive rate is only about 5%. What is best: protecting that 5% who will be given the good
news a month later; or giving life to all those women who would benefit???????
Our Petition read:
To the House of Representatives:
"That the Government URGENTLY AMENDS the Government Breast Screening Programme to include women aged from 40 years to 70 years (the same as Australia) instead of the present 50 years to 64 years."
Latest data from the NZ Ministry of Health: 647 lives p.a. The peak death rate from Breast Cancer
is 50 - 54 years (not when getting Breast Cancer, but when dying from it) with the
death rate being higher from 45 - 49 years than that of 54 - 59 years. The younger a women is,
the more aggressive the Cancer is. Because in some younger women mammography
screening is sometimes harder to read - this is no excuse to deny Breast Screening to all
those women who would benefit, as early detection saves lives. Without a screening
programme of mammography (and ultrasound backup if needed) from 40 years, women
get the wrong messages whereby either they don't bother, don't think it's necessary
or can't afford it. We all have to take responsibility for our health, but we also need
compassion and can't ignore all those women that are dying unnecessarily.
The American Cancer Society promotes all women to have mammograms from 40 years.
The U.S. Preventative Services Task Force who have recently reviewed 8 major studies
of mammography and concluded there is evidence that regular mammography from
40 years could reduce chances of dying by about 20% over 10 years and are now
recommending annual mammography for women aged from 40 years. This change of
heart by the U.S. Preventative Services Task Force in 2002 is considered by many to be a
"dam breaker" on the issue and is very big news.
Two independent studies from Sweden, one from Gothenburg and other other from Malmo,
reported 44% and 36% decreases, respectively, in the Breast Cancer death rate for
women who began screening in their 40's.
Other U.S.A. organisations that now recommend Mammographic Screening in Women
aged 40 - 49 years:
U.S. Department of Health and Human Services
National Cancer Institute of America
American College of Radiology
American College of Obstetricians and Gynecologists
American College of Surgeons
Here are some countries whose Government supports regular screening from 40 years:
Australia, United States, Sweden, Greece, Portugal, Iceland, with Uruguay and Spain from 45 years.
THERE IS NO DOUBT, EARLY DETECTION SAVES LIVES!
---
Some other interesting facts about mammography:
The best method for the early detection of a cancer in the breast is mammography.
While women are encouraged to regularly examine their breasts, self examination only picks up 50 percent of breast cancers
whereas mammography, (and ultrasound if needed) combined with a physical examination by your doctor, picks up over 90 percent
of cancers.
Mammography...Is it Safe? The level of radiation is very low and the benefits of being screened for breast cancer far outweigh
any risk of harm from the x-ray. If you are still unsure, take comfort from the fact that the risk has been equated in health terms
with driving in a car for 50 kilometres! There is a misperception of Mammography as a chest x-ray, but it's not, it's only a gentle
squeeze on the breast and no x-rays go into the chest. The pressure placed on your breast during the x-ray cannot cause damage
to your breasts or cause breast cancer. It is, however, best to avoid having mammography in the week prior to your period as your
breasts feel more tender at this time and the x-ray may cause you discomfort. Any discomfort of mammography is insignificant
in relation to the trauma and life threatening aspect of having Breast Cancer not found at an early stage!
---
DEBBIE'S CD
Proceeds Going to the Breast Cancer Cause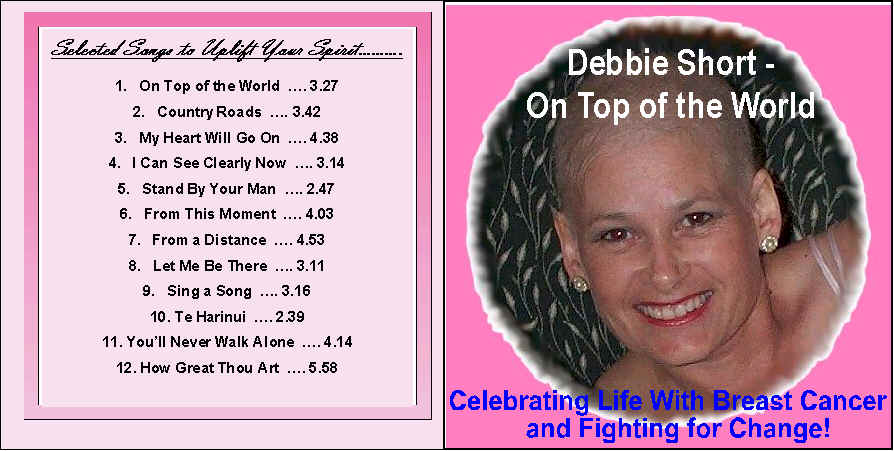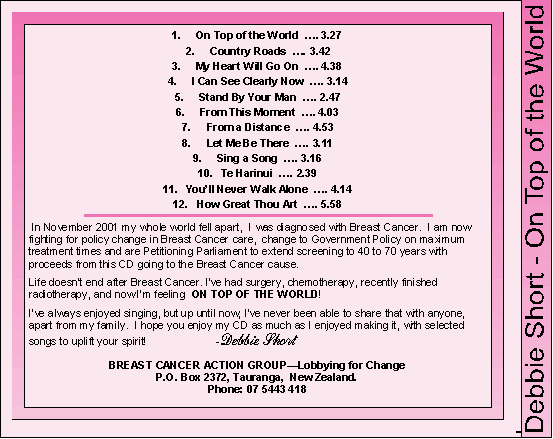 NZ$20 with $10 going to Breast Cancer
TO ORDER:

---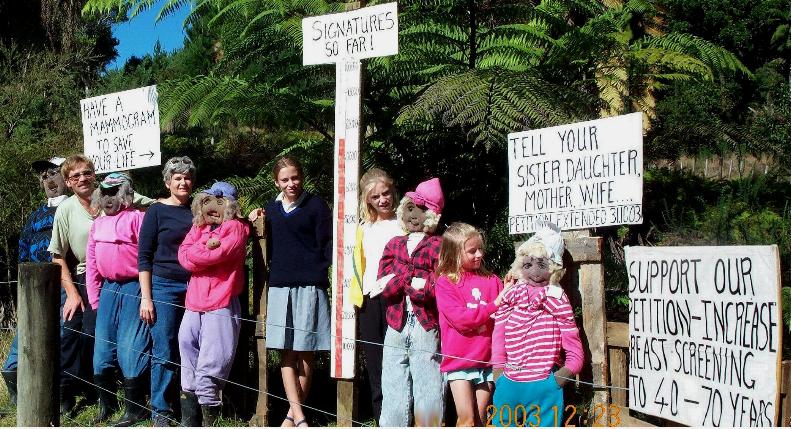 The Shorts and their Scarecrows!
THANK YOU TO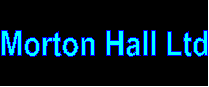 FOR HOSTING THIS PAGE